Why is Professional Qualification necessary?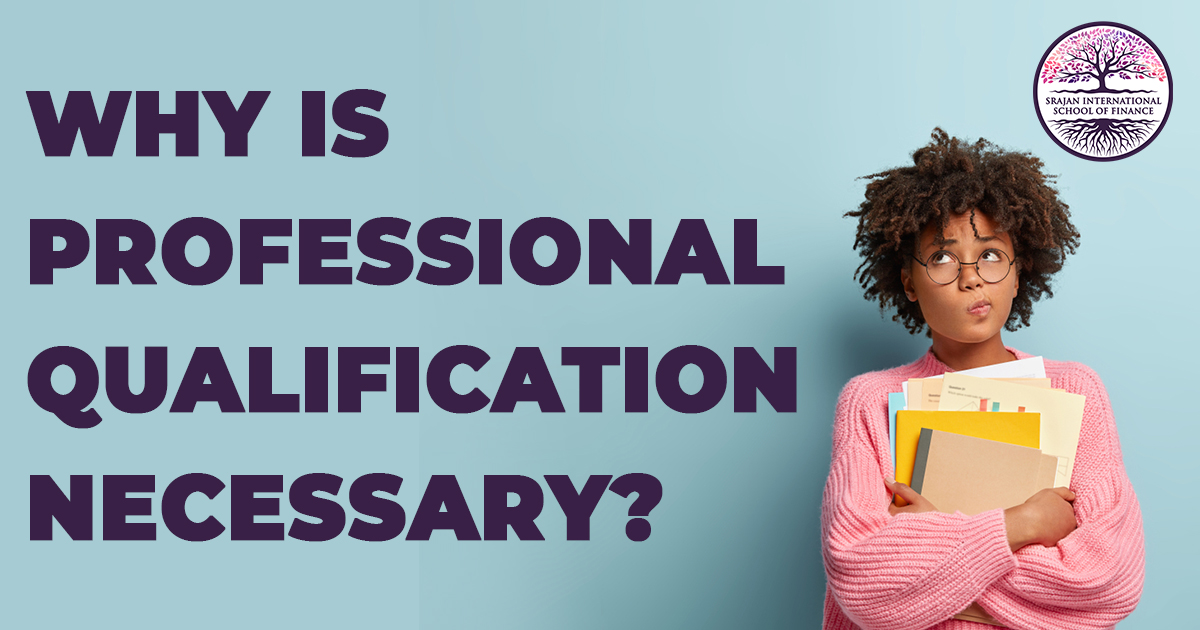 Main reasons why you should study Professional Qualification
Regardless of the matter of fact, whether you are working in a management or playing the role of an HR professional, you can never be overqualified for your job. Moreover, considering the constantly changing technology and work culture, getting a professional qualification will always help you stand out from the workforce. In the below section, we shall discuss the top benefits of upgrading your career by elevating your education and skills. 
Professional Abilities can improve your skillset: 
Getting a professional qualification will assist in obtaining all the job-related skills, thereby enhancing your knowledge. It will also allow you to expand your knowledge and learn new skills and gain more experience. Hence having a professional qualification will build your confidence and lift your career.
2.) Enhance your career opportunities:
Having a professional qualifications will broaden your career prospects. Many organizations qualify their employees to the next level only if they have any professional qualifications. This means that your career prospects will be enhanced once you complete your professional qualification, which will eventually provide you more career choices. Therefore being professionally qualified gives you multiple options to find a job that is most suitable to your qualification criteria. 
3.) Show commitment: 
Although you may hold a degree that offers multiple arrays of jobs, having a professional the qualification will enhance your chances of getting a job in a specific sector. Getting a professional qualification in the sector, you are passionate about will keep you stay focused, motivated and committed to better yourself in that specific sector.
4.) Sense of Empowerment:
Besides all the career and financial benefits that one gets from holding a professional degree, achieving a professional qualification gives you a sense of fulfilment and achievement. Holding a professional qualification empowers you and keeps you self-motivated. Moreover, considering the number of perks it offers, it is worth investing your time, money and efforts to get a professional qualification. Getting such qualifications will open a window of opportunities towards building a strong career. 
How to find the best professional Course: 
When it comes to selecting that one Course of your interest, it is imperative to do proper research of all the options available in the academic industry and carefully select the best Course which are passionate about and want to learn more. A plethora of courses are being offered these days, From online to short term to intensive learning courses. All these courses fulfil the different purposes for different students, from mending the academic gaps to providing additional professional qualification, each Course fulfils different goals of different students. Hence the students must consider:
a.) Course Duration
b.) Course Fee and 
c.) Course Structure and 
d.) Course Outcome in terms of how will it benefit you towards building a successful career. While deciding upon which course to pursue. In fact, the best strategy is to ask the below mentioned authorities before taking the final decision:
a.) Present or former students: 
The best strategy before making the executive decision is to either contact the current students who are pursuing that Course or those who have already undertaken the professional qualification since they would give you an unbiased opinion about the course structure of the training provider.
b.) Professionals: 
The next best person who could guide you towards building a successful career journey would be the professional consultants who can take you through all the intricate details pertaining to all the professional courses and their prospective outcomes. 
c.) Teachers: 
Besides professionals, teachers who provide teach professional courses can also guide you and provide you a clear picture of what it takes to pursue the specific Course and its relative future. 
d.) Your organization or employers you are working with: 
Last but not least comes your managers or employers or the HR team who are well acquainted with the industrial demand. Accordingly, they could guide you on the best professional qualification in most demand in the corporate world and further your career. 
Hence, obtaining a professional qualification is the primary step towards achieving a certified status that will authenticate you as a registered member and the recognized professional in the specific working sector. Moreover, it helps develop the skills and knowledge in that exclusive sector and empower you towards demonstrating your potential in the same.