ACCA | Globally Recognized Professional Accounting Course
What is ACCA?
The ACCA Course is a globally recognized course offered by The Association of Chartered Certified Accountants of the UK. With a simple aim to provide industry-specific premium training to the applicants, this foundation was specially created to develop finance and accounting personnel for meeting the industrial requirement.
Initiated in 1904, ACCA has now gained global recognition with its exclusive principles of innovation, diversity, reliability, and accountability. All these values are synced with the industrial requirements, thereby ensuring to prepare accounting professionals for the business.
Why Choose to Study ACCA?
A plethora of accountancy courses are being offered worldwide, but what makes ACCA different is its unique characters. Moreover, the best part about this course is that it offers a diploma certificate at every level, thereby making the students' job ready even before completion of the entire course. Hence the students can start working based on their cleared ACCA levels.After completing the second level of the ACCA qualification, the students can even apply for Graduation from Oxford Brookes University. In fact, they can also apply for a Master's degree from the renowned University of London after completion of the ACCA course.
Mentioned herewith are some of the unique features of this course:
Global Linkage:
Global recognition of the professional accountants.
Over 200,000 members and 500,000 students in 181 nations.
104 offices across the globe.
Offers internationally approved training in finance and accounting.
It offers regional law and tax training to make the qualification locally relevant.
ACCA courses are accepted by the key regulatory and education authorities across the world
ACCA is affiliated with other international accountancy bodies.
What is the Eligibility Criteria for ACCA?
ACCA comes with very simple eligibility criteria, thereby allowing the applicant to pursue this course right after finishing their higher education (12'th), which they can pursue along with the graduation degree (B. Com/ BBA/ BMS).
Below mentioned is the eligibility criteria of this course:
10+2 (Commerce) certificate
65% marks in at least two subjects
Above 50% of marks in subjects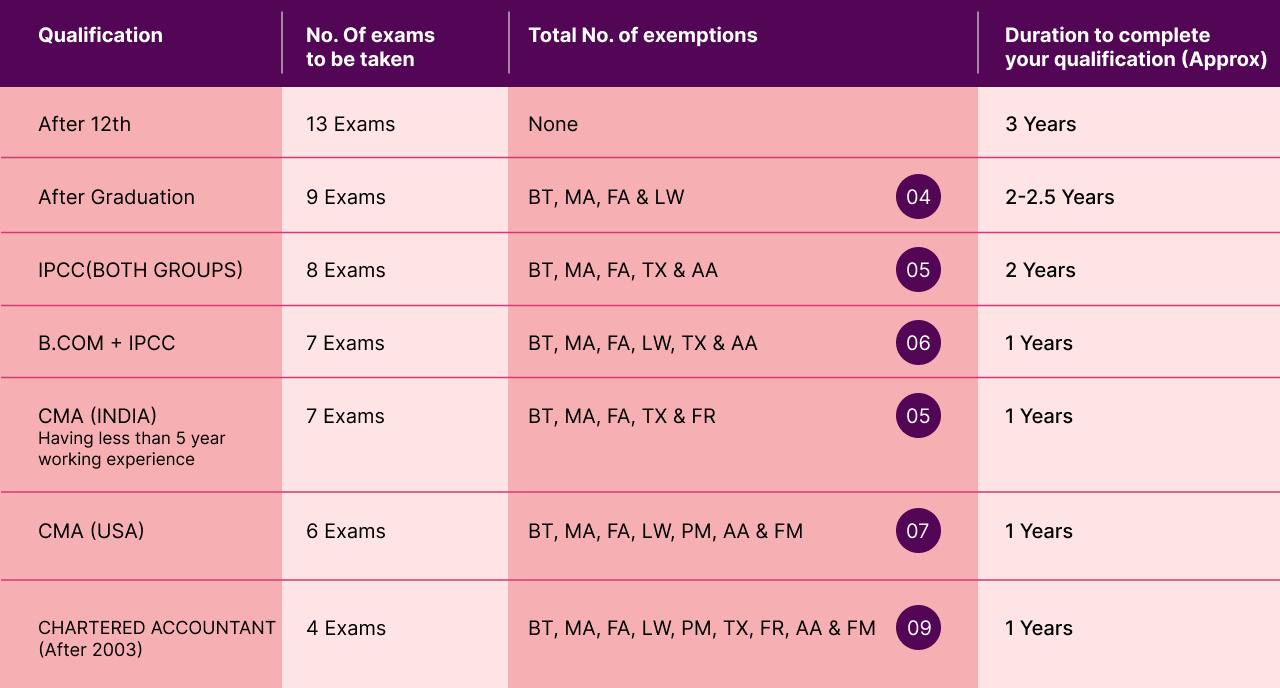 What is the Scope of ACCA in India?
The ACCA qualification has already achieved extensive acknowledgment in the Indian market over the past few years. It is also marking its presence in the Indian CA sector due to related skills, knowledge, and employability. Having a close association with the CA sector, ACCA is gaining more and more popularity these days due to its flexible exam schedules as compared to the CA course. This eventually has led to more job opportunities in this sector. In fact, the ACCA qualified person is in high demand in the Big 4 audit firms, the International banking sector, Information Technology (IT) sector, KPOs, and much more. Due to its close affiliation with IFRS, there has been a constant rise in the demand for people with IFRS knowledge, especially since 2018. Moreover, the increasing number of ACCA registered employers has also helped in generating more job opportunities in this sector.
Below mentioned is the list of companies who are continually hiring ACCA qualified accounting professionals:
What is ACCA Course Structure?
ACCA Qualification comprises a total of 15 papers, from which the students are entitled to clear 13 subjects. After completion of the initial two levels, the students are offered the liberty to select any two subjects of their choice at Level 3 of the course structure.
Mentioned herewith is the brief overview of the framework of this course along with the reward earned at each interim level:
Level 1: Applied Knowledge
Accountant in Business
Management Accounting
Financial Accounting
+ Foundation in Professionalism Module
Reward: Diploma in Accounting and Business.
Level 2: Applied Skills
Corporate and Business Law
Performance Management
Taxation
Financial Reporting
Audit Assurance
Financial Management
+ Ethics and Professional Skills Module
Reward: Advanced Diploma in Accounting and Business with an option to pursue B. Sc. (Hons.) in applied accounting from Oxford Brookes University.
Level 3: Strategic Professional
Essential Subjects:
Strategic Business Leader
Strategic Business Reporting
Reward: ACCA Qualification with an option to apply for M Sc. in Professional Accountancy from the University of London.
Optional Subjects (Any Two)
Advanced Financial management
Advanced Performance Management
Advanced Taxation
Advanced Audit and Assurance
What is the Course Duration of ACCA?
There is no minimum duration. However, it usually takes a minimum of 2 years to complete the ACCA qualification.
Why Register Yourself for ACCA with SISF?
Srajan International School of Finance (SISF), Udaipur has come up with a LIVE online training program for all the ACCA subject portals, thereby allowing the applicants to attend the classes from anywhere..
The key features of our online classes are as mentioned:
LIVE interactive online classes
Classes conducted by experienced faculty
Revision sessionsy
Exam focussed training with LIVE problem solving
Online Mock Exams under faculty invigilation
Recordings of all classes for reference.