MBA or ACCA- What is the better option?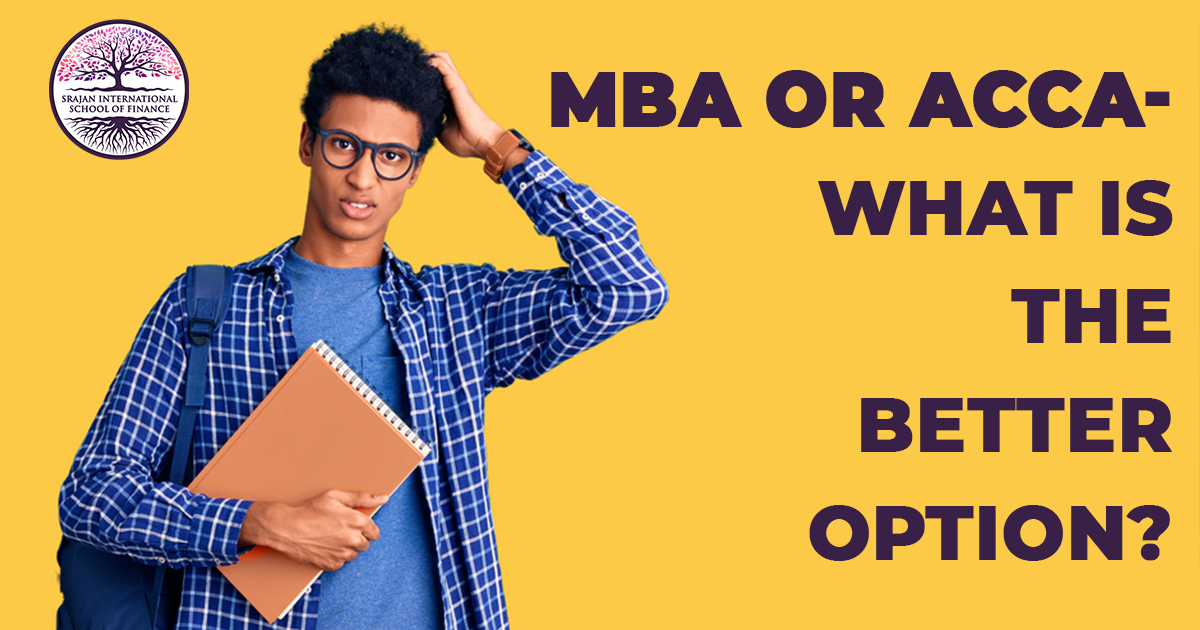 Isn't it so alluring that our whole life survives around making the correct decisions or choices? Accordingly, it is significant that we make sure to not miss any unimportant but very essential things while making a decision to choose the correct option. Therefore, if you are struggling on whether to go for the ACCA certification course or to pursue MBA, then you can get a brief overview at this article which might assist you to come out of this academic dilemma.
What exactly is ACCA?
In order to get a better understanding of which subject to opt for, Let us first understand the exact meaning of ACCA and what it is all about. ACCA is considered to be one of the elite course that is presented by a global professional accounting body, the Association of Chartered Certified Accountants (ACCA). This prestigious course was introduced in 1904 to assist prospective and aspiring financial professionals to acquire advanced accounting skills by perfecting their competences and understanding. ACCA is gaining popularity and tend to recognized as one of the multifaceted certification course that is primarily focused towards providing in depth knowledge in the accounting, taxation, and auditing sector. This eventually will provide a strong base to the accounting professionals towards development of a successful career. These ACCA professionals will further be directed by a fixed set of rules of ACCA so as to sustain its reputation and inspiration in the professional world.
Now another big question that comes across everyone's mind is what exactly are the benefits of being an ACCA professional. Well, an ACCA is a certified member of a huge global family of competent professionals that includes more than 208,000 members and 503,000 students spread across 181 countries. Moreover, it offers job opportunities for students at a global level, thereby offering them the opportunity to associate themselves with more than 7,400 accepted employers and 80 accountancy partners universally. 
Hence, if you are interested towards getting an in depth knowledge in the accounting and financial sector, then you must opt for ACCA. The overall syllabus of this respective course shelters accounting, taxation, and auditing alongside with other analytical knowledge sectors comprising of business studies, financial reporting, financial management, law and ethical & professional standards.
What exactly is MBA all about: 
MBA has gained a lot of popularity, and is considered as one of the most popular course since the last decade. As almost every one of you would be aware that MBA is a master's degree in business administration. It is a course that prepares you for the corporate world, and multiple ways to handle business in a successful and efficient manner.
Although most of the business schools run a two-year degree program, a few of them also serve a one-year program for all the qualified professionals, but the basic motive of all the institutes is to train you to become a strategic management professional in any corporation thereby providing you complete knowledge in the accounting, finance, human resources (HR) and marketing sector. 
Besides full-time MBA course is also offered on a part-time or distance learning basis, depending on the applicant's eligibility and requirement. Each respective course has its own unique process to prepare the students industry ready. 
Why should you opt for an MBA course?
Most of the students are charmed by the fascinating life of an MBA that is being portrayed in the commercial world. Although it is true to some extent, as an MBA Degree teached all the important business skills, that can catapult you with the corporate ladder , Although getting the ladder going. 
Although it is not a cake walk to get admission in any reputed business school. But it is worth trying for as an MBA degree from a reputed college will help you excel your managerial skills. An MBA certification program is extensive and wide ranging, as it covers almost every aspect of the corporate world thereby making the students industry ready.
Major Difference between MBA and ACCA Certification program
Now, let us have a brief overview about the elementary difference between ACCA and MBA degree: 
| | | |
| --- | --- | --- |
| Parameter | ACCA | MBA |
| Organizing Body | The ACCA Certificate is issued by the globally recognized Association of Chartered Certified Accountants.  | The MBA degree is offered by any certified educational institutes that are affiliated by the Government recognized University.  |
| Course Duration | Normally it takes approximately 2-3 years to complete an ACCA certification program.  | A full time MBA can be finished within 1 to 2 years depending on the kind o f business school.  |
| Protocol | ACCA offers a detailed knowledge in the financial and accounting sector.  | MBA provides a complete knowledge about the entire functioning of the  organization |
| Course Fee | The ACCA Certification course costs around $900  | MBA from a decent college may  cost around $ 65,000 which makes it a lot more expensive than ACCA.  |
| Job Opportunity | ACCA offers multiple job opportnities to the students including Accountant, Finance manager, Tax Management , Finance consultant. . | MBA offers muliple job opportunities including mid management roles in different industries.  |
Conclusion: 
Overall it can be said that the ACCA certification assists in getting jobs in the finance and accounting sector, whereas a degree in MBA helps in procuring a managerial position in the corporate world.